Tahun ini, ajang penghargaan World's 50 Best Bar besutan majalah Drinks International kembali digelar. Pemungutan suara yang melibatkan 500 orang pemilih dari 55 negara tersebut sepakat menasbihkan American Bar sebagai yang terbaik, dan menggeser The Dead Rabbit Grocery & Grog di New York.
Untuk pertama kalinya, bar bergaya Amerika berusia 128 tahun yang berlokasi di kawasan di hotel Savoy London tersebut berhasil menduduki puncak. Meski sudah sepuh, prestasi bar yang dikepalai oleh Erik Lorincz ini tak boleh diremehkan. Selain menjadi salah satu ikon dunia selama lebih dari satu abad, bar berdekorasi seni ini juga kental dengan nuansa sejarah. The American Bar menggoda tamunya dengan menu minuman yang memikat, salah satunya adalah Coast to Coast.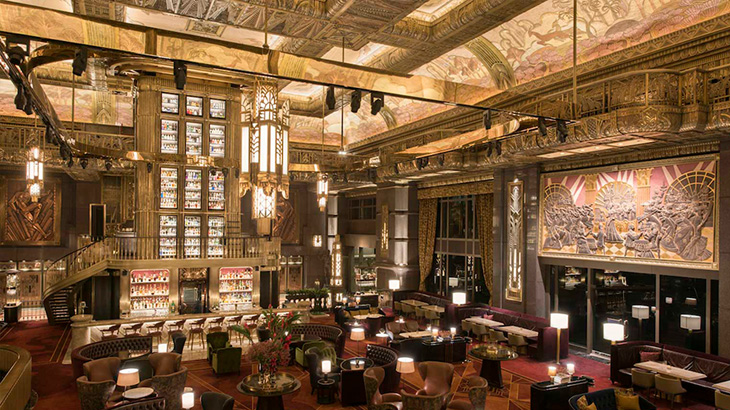 Daftar lainnya pun tak banyak berubah. Namun, pemenang tahun lalu, The Dead Rabbit Grocery & Grog tampaknya harus berbesar hati turun empat peringkat ke posisi lima. Sedangkan untuk pendatang baru, Atlas Bar di Singapura yang melesat ke posisi 15, berhasil menggondol satu penghargaan tambahan sebagai "Highest New Entry".
Berikut daftar 50 bar terbaik di dunia:
1. American Bar, London

2. Dandelyan, London

3. NoMad Bar, New York

4. Connaught Bar, London

5. The Dead Rabbit Grocery & Grog, New York

6. The Clumsies, Athena

7. Manhattan, Singapura

8. Attaboy, New York

9. Bar Termini, London

10. Speak Low, Shanghai

11. Little Red Door, Paris

12. Happiness Forgets, London

13. High Five, Tokyo

14. Licoreria Limantour, Mexico City

15. Atlas, Singapura

16. Dante, New York

17. Oriole, London

18. The Broken Shaker, Miami

19. Candelaria, Paris

20. Himkok, Oslo

21. The Gibson, London

22. Black Pearl, Melbourne

23. Floreria Atlantico, Buenos Aires

24. Operation Dagger, Singapura

25. 28 Hongkong Street, Singapura

26. Trick Dog, San Francisco

27. Sweet Liberty Drinks & Supply Company, Miami

28. Indulge Experimental Bistro, Taipei

29. Lost & Found, Nicosia

30. Baba Au Rum, Athena

31. Tippling Club, Singapura

32. BlackTail, New York

33. The Jerry Thomas Project, Roma

34. Le Syndicat, Paris

35. Tales & Spirits, Amsterdam

36. Bar Benfiddich, Tokyo

37. Employees Only, New York

38. Schumann's, Munich

39. La Factoria, Old San Juan, Puerto Rico

40. Quinary, Hong Kong

41. Aviary, Chicago

42. Mace, New York

43. Nightjar, London

44. Linje Tio, Stockholm

45. The Baxter Inn, Sydney

46. ABV, San Francisco

47. Native, Singapura

48. Tommy's, San Francisco

49. Lobster Bar, Hong Kong

50. Imperial Craft, Tel Aviv
Informasi selengkapnya, kunjungi worlds50bestbars.com.

Comments